Due to COVID 19, our 2021 ND SHAPE Conference will be virtual!
Friday, February 19, 2021 7 pm- 9 pm
Saturday, February 20, 2021 9 am-4 pm
All sessions will be viewed from our ND SHAPE YouTube Channel on the date of the conference, and for 2 months after. We ask that presenters be available on the date and time their session goes live to answer any questions that attendees have.
The Conference cost will be FREE with ND SHAPE Membership, so be sure to renew before you register! Registration for conference will be available January 1, 2021, and the first 100 to register with current membership will receive our ND SHAPE facemask!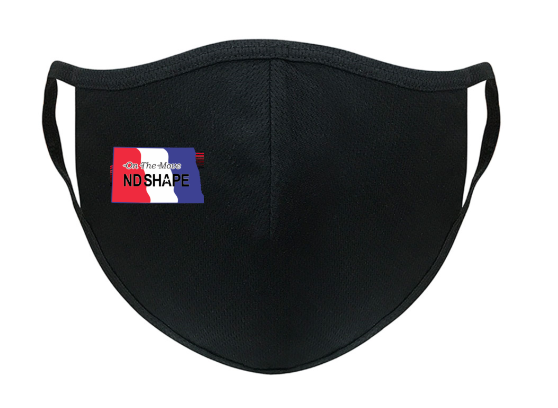 Two separate graduate credits will be available, please see the links below to sign up through NDSU.
Below you will find the schedule, and below that you will find the session descriptions. Be sure to click on the schedule to see the second page!
Presenter biographies can be found here!
2021-ND-SHAPE-Conference

Presenter
Title
Description
Kelsey Higginson
Yung-Ju "Ruth" Chen
Adventure-based Learning- a great way to build community!
Adventure-based Learning (ABL) is an exciting curriculum model in physical education. It can help build a sense of community in your classes. It can help students learn to problem solve, overcome challenges, and communicate with one another. Come and learn about the methods you need to know so that you can implement it in your own class. Learn examples of activities you can introduce in your class and how to adjust activities you already include to align with this model. Come learn, discuss, and share with your colleagues as we talk about ABL in physical education!
Jenny Linker
Physical Education – A Premier MTSS Tier I Support
Is your school capitalizing upon existing curriculum to support social emotional learning? The NDMTSS Social Emotional Learning Goals are highly-aligned with ND's Physical Education Standards. This session will highlight these cross-curricular alignments, define high-quality physical education, propose strategies for bolstering current instructional practices, and present new opportunities.
Nicole Benedict
Yoga for Social and Emotional Learning
What comes to your mind when you think of yoga? Many people think of it as the obvious physical practice. Yet, yoga is so much more! Yoga can be taught not only as a lifelong physical activity, but also as a path to self-regulation and peace during stressful times. Join me, as we explore yoga for self-awareness and self-management.
Mike Martinez
Keeping the EDUCATION in Physical Education: Tech Tips for Remote PE and BEYOND!
Come check out some of my favorite platforms to ensure we are keeping things like skill development, assessment, class discussions and JOY alive and well in PE whether you are remote OR in person! These are tips for all grade levels and work wonderfully in ANY teaching environment!
Yung-Ju "Ruth" Chen
Kelsey Higginson
Adventure-based Learning- a great way to build community!
Adventure-based Learning (ABL) is an exciting curriculum model in physical education. It can help build a sense of community in your classes. It can help students learn to problem solve, overcome challenges, and communicate with one another. Come and learn about the methods you need to know so that you can implement it in your own class. Learn examples of activities you can introduce in your class and how to adjust activities you already include to align with this model. Come learn, discuss, and share with your colleagues as we talk about ABL in physical education!
Holly Alperin
Dr. Sarah Benes
Skills-Based Health Education 101
Are you looking to begin to switch to a skills-based approach but aren't sure where to start? If so, this is the session for you. We will cover the "nuts and bolts" of designing and implementing a skills-based approach to health education. You will leave with strategies and ideas that will help you to become a skills-based health educator.
Sarah Gietschier-Hartman
Lisa Smith
HealthEd Students Love Activities
Hey, Teacher! Did you know #HealthEd students love activities? They love hands-on activities, group activities, really big gigantic activities, and tiny little activities as well. If you want to create an engaging learning environment, you'll need buckets of activities. Pantloads of activities. The best way to judge is to get a boat and fill the boat with activities. This session will focus on secondary health and is inspired by our favorite book, Dragons Love Tacos.
Brian Devore
"Spec-tech-ular" Teaching Tools for Health and Physical Literacy!
Time to spice up the technology in your teaching? Log in and investigate the latest and greatest tech tools that will enable you to create a "spec-tech-ular" virtual or face-to-face learning environment! Participants can follow along to learn about the tech tools as we investigate and will receive access to a complete list of tools shared!
Mike Morris
Remote Learning & Physical Education! Engaging students in an Online Learning Environment!
Many educators have been asked to provide physical education instruction online due to the impact of COVID-19. How do physical educators teach under these new expectations? What does this new physical education experience look like? Join me as we explore engaging ideas and activities to keep students safe and learning our content in an online enviornment.
Dr. Sarah Benes
Holly Alperin
Mental Health the Skills-Based Way
In this session, we will explore functional information related to mental health for students in 6th-12th grade and ways to integrate this functional information into a skills-based framework. We focus on practical ideas and strategies to use a skills-based approach to support and develop secondary students' mental health literacy.
Debra VanKlei
Jessica Matheson
Instructional Strategies for Teaching Online
Need help trying to figure out how to build community in your virtual teaching space? Can't figure out why students don't seem engaged or attend your Google hangouts? This presentation will explore best practices in developing your online content and empowering your students in their learning.
Becky Foellmer
Mark Foellmer
Flippity in HPE
Please join us as we explore the many ways Flippity can become part of your teacher toolbelt and assist you in delivering lessons to your students. Some of Flippity's features are team and group pickers, curriculum review tools and games, instant activity options and even badge systems to motivate your students. Come learn all that Flippity has to offer teachers-all entirely free.
Kelly Zerby
Cindie Cortinas Vogt
Let's Play! Total engagement for in-person and remote learners!
Do you need some fun, upbeat and practical activities for your PE classes? We have an interesting collection of both in-person and remote learning lessons. Come check us out!
Dr. Kymm Ballard
Tips for New Teachers
Young teachers are often out on their own and may need a little lift or reminder of some good pedagogical strategies to hang in these beginning years. Many drop out before they gain the experience to handle such long days with little breaks and often coaching or providing after school programing also. While there is no easy answer – here are a few tips for new teachers in their first 5 years that I hope will help you be resistant and hang in there!
Bill Casey
SEL and health.moves.minds. High School Version
Learn how we approached and applied Social Emotional Learning to a large high school population using health.moves.minds.. This process is ongoing and will show how Neuqua Valley High School started and is still incorporating SEL, even in a remote environment.
Tanner Roos
Kyle Bragg
Maximize Physical Education: Engaging Students Bell-to-Bell
Join two SHAPE America District Teachers of the Year to learn how to maximize your PE program. Learn practical strategies that can maximize time, increase teacher effectiveness and improve student learning. Through the use of intentional planning, student choice, meaningful technology, questioning techniques, feedback and effective transitions, your PE program with thrive!
Shannon M Maly
Making it Official: Teaching Sports Officiating in your Schools
Have you ever thought about adding a Sports Officiating Course to your High School PE program? Come learn
about the process starting from the course proposal all the way to implementation. In this session you will learn teaching ideas, and how to work with your state sports organization and NFHS to get your students certified.
Learning Objectives:
Formulate a plan to implement a sports officiating course at the secondary level.
Prepare a course proposal to submit to their district.
Apply knowledge they learned in this presentation to begin their own a sports officiating course.
Taylon A Sad
Mental Health During Covid-19
COVID-19 has affected everybody this year in some way, shape, or form. The physical aspects of the disease are often emphasized, and the precautions needed to protect our physical health are at our disposal with masks and social distancing. But what about mental health? As a college senior who has been through isolation and quarantine just like many others, my mental health has not been 100% at all most of the time. The purpose of my presentation is to give data and statistics about mental health problems linked to COVID-19. It also provides some strategies to cope with these mental health issues during this challenging time, especially hoping to support teachers who have been dealing with students in the classroom as well as at home.
Gustave Karagrozis
Kevin Lau
Thrive with GIFS and Visual Appealing Google Slides
Make your pedagogy THRIVE with GIF making and visual appealing google slides. GIFS can be found all over the internet but do you know how to create your own? Are your google slides visual appealing enough? Students learn best with constant visuals and there is no better visual than a GIF that loops. Not only can us teachers create them, but even your own students can. GIFs will grab attention, illustrate ideas, break down process into steps, show a sequence and make content exhilarating. Enough bloviating about GIFs, come learn how to make your google slides visually appealing and how to create GIFs !
Kelly Zerby
Teaching Dance to Your Own Beat
We aren't all natural dancers, and that is okay! You can teach rhythms in so many different ways. Come check out some creative and fun activities and dances to bring rhythm and music into your PE classes.
Kanae Haneishi
Teaching Games for Understanding during Pandemic
As Physical Education and Health Education professionals, we play an important role on our students' physical and mental health.
Teaching Games for Understanding (TGfU) is proved to be effective not only on teaching game skills but also on enhancing students' motivation. The basic idea of TGfU is to teach how to play a game in a game-like situation rather than using conventional, isolated, and repetitive drills. Because students are spending a lot of time playing and moving during a TGfU lesson, they are getting much higher level of physical activity.
Dr. Joe Deutsch
Megan McCollom
Incorporating the health.moves.minds Curriculum and Fundraiser into Your School
Across the country, today's children and adolescents — at all grade levels — do not get enough physical activity, and are struggling with anxiety, depression, and other mental health challenges. Understanding these challenges, promoting an active school environment, and teaching children how to cope with stress, bullying, and societal pressures can make all the difference. The health. moves. minds.™ program brings the lessons, activities, and community-building ideas that can help kids live their best lives. Join us to get registered today! It is quick and easy and you will have SEL focused complete lessons in your hand immediately!
Judy LoBianco
Interviewing With Confidence
Interviewing with Confidence is about BEING Confident! Join the 2013 National Supervisor of the Year as she walks participants through the common pitfalls and successes of the interview process!
Brandon Wolff
Remote-Hybrid-On-Site IHT Heart Rate Solutions For You
This video presentation features former Teachers of the Year who walk you through the ways IHT's heart rate, assessment and curriculum technology can optimize your online, hybrid, or in-person programs. Whether used in physical education or emotional self-regulation, you'll learn teacher tips and see the impact IHT is making with any methodology.
Dr. Penny Veit-Hetletved
Mental Management System
Dr. Penny Veit-Hetletved is one of eight Licensed Level Three Instructors to the Mental Management System–lifetime educator, superintendent, and athlete and coach…now she makes it her mission to teach the mental management system to all that cross her path in a search for excellence.
Eric Larson
Increase Moderate to Vigorous Physical Activity
This video presentation utilizes evidence-based strategies that increase Moderate to Vigorous Physical Activity (MVPA) in physical education class. Learn how effective management of students, technology, equipment and instructional time can yield more activity for your students. Participants will use research-based strategies to modify existing activities to increase MVPA. Takeaway: 12 fitness activities and team games that will enhance elementary, middle, and high school programs.